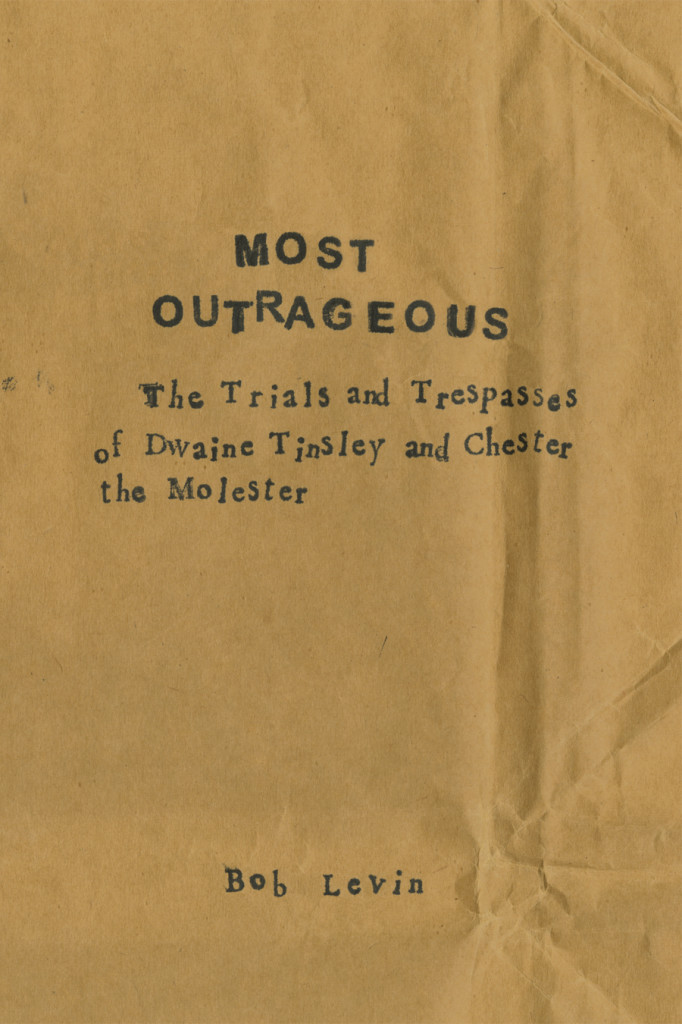 Dwaine Tinsley, the chief cartoonist for Hustler magazine, created Chester the Molester, a middle aged fellow with a predilection for prepubescent girls. Later, his teenage daughter accused him of several years' sexual abuse. Sex, drugs, x-rated comics and due process. $20. Signed. Please contact us for international shipping.
REVIEWS
The best book about comics and cartooning written to date…
(And)
alarming and heartbreaking… an excellent, excellent book.
(And)
Most Outyrageous is right up there with any book in comics… in terms of people at conventions and on-line grabbing my arm (or its virtual equivalent) and conveying "holy shit" astonishment…. I give it my highest recommendation.
Tom Spurgeon. The Comics Reporter.
The most challenging and thought provoking book I read last year… It is painful to read and impossible to forget.
(And)
"Powerfully thoughtful… masterful (and)… harrowing."
Steve Duin. The Oregonian.

Levin is unflinching here, but never without the grace, skill and sensitivity… that has come to mark his writing…. There's no one better writing about the comics industry today.
Robot 6. comicbookresources.com

Moxie Award: Best Book of the Year About Comics.
Chris Mautner. Harrisburg Patriot News.

An even, calm, and sane book about a wild, empassioned and nutty subject…. Levin is always worth reading . And with Tinsley he found a story dark, complicated, and strange enough to get him writing consistently at the top of his range.
Brian Doherty. reason.com

The most underrated comics-related book of the year.
Eric Reynolds.

Winner: Best Comics, Clip Art and Pedophilia of 2008:
R.C. Baker. The Village Voice.

Lurid and fascinating… loathsome… (and compelling)"
Chris Dodge. UTNE. Reader