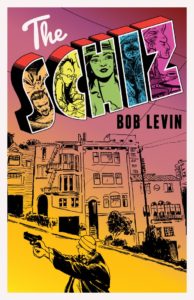 Spruce Hill Books is proud to announce that it has partnered with Alternative for distribution to North American bookstores via Consortium Book Sales & Distribution and to comics specialty stores everywhere via Diamond. Look for it at your coolest local bookstore in November.
Even in 1980s San Francisco, the five corners where art, law, sex, medicine and madness meet is no place to live:
Princeton Gutkin finds himself coasting on the fumes of what was once a vibrant legal career into bankruptcy and what he fears is the Black Friday of his May-December romance with his live-in girlfriend. Princeton just needs one big score to turn his luck around ….
Tisa Rio knows she's the only good thing Princeton has left, but that's no reason to put her own life on hold … if she knew what that life should be.
Dr. Morgan Beaujack may not be a doctor anymore, but that doesn't mean he can't practice the art of sadomasochistic sexual healing until he gets his license back.
Stanley Doone is waiting for his open-and-shut lawsuit's settlement, sure to be so massive that he'll finally be able to draw The Great American Graphic Novel and transform society forever … if he can ever get his lawyer Princeton on the phone again to find out where his money is.
Jerome Heavens doesn't really have a home but he does own a dead man's pistol, a Walkman, some Thelonious Monk cassettes and all the bullets and rage he needs to find the surgeon who intentionally installed a whistle in his heart, so that he look that man … in the eye.
_________________________________________
Featuring 19 illustrated interpretations of this novel's twisting, twisted and kaleidoscopic narrative shifts, all drawn from five generations of superb cartoonists:
Josh Bayer
Mark Bode
David Chelsea
R.L. Crabb
J.T. Dockery
Austin English
Shary Flenniken
Casanova Frankenstein
Gabrielle Gamboa
Gary Hallgren
Eric Haven
Jack Katz
Tyler Landry
Aaron Lange
Fred Noland
Dan O'Neill
Ted Richards
James Romberger
Ariel Schrag
Cover design by Francois Vigneault
_________________________________________
ADVANCE RESPONSE TO THE SCHIZ:
"You are the ultimate literary aghori — the ultimate literary anger baba —You are nuts — WOW! Really… Don't bother to send this madness to publishers. They'll be returning you the men in white, not just rejection slips. You are, most likely, giving them truly frightening dreams." — Maxon Crumb
"'Lawyers, doctors, patients and clients' — There's a subject that needs some scathing examination. I hope your book, The Schiz, is this much-needed satirical critique. Hopefully that's the reason why it is 'much-reviled.'"— R. Crumb
In tribute to the patron saint of Bay Area misfits, 10% of each copy of this book sold will be donated to the S. Clay Wilson Special Needs Trust.
Pre-order your copy now — $15.99, plus $5 for postage in the USA. Please contact us for international shipping.