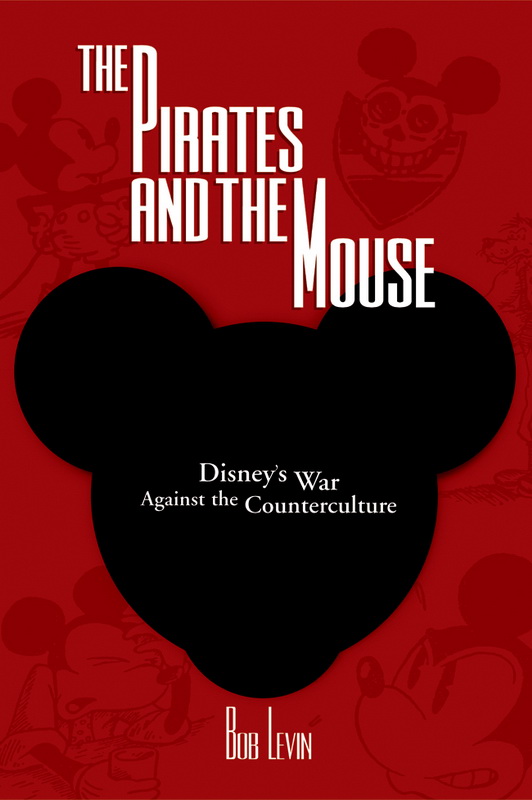 Underground cartoonists decide their contribution to the cultural revolution will be the destruction of Walt Disney. Drugs, x-rated comics and fair use. Pre-owned copies now available for $30, signed. Please contact us for international shipping.
Reviews
"Anyone with a serious interest in the history of underground comics is hereby directed to PICK THIS UP." ARTHUR.
"DEEPLY TROUBLING, SOMETIMES HILARIOUS, UTTERLY DEVESTATING… Communication classes should use this as a textbook." BANDOPPLER MAGAZINE.
"A GREAT STORY… If you have even an ounce of counter-culture revolution in your heart, how can you possibly resist this marvelous tale." NETSURFER.COM.
"A 'MUST-READ' for anyone concerned with such issues as artistic freedom, copyright law… and the darker side of corporate Disney." MIDWEST BOOK REVIEW.
"STARTLING AND EVOCATIVE… As a case study of modern copyright law and the conflict between free expression, intellectual property, corporate, cultural, and countercultural values, it is an invaluable primer and SHOULD BE PARKED IN A PLACE OF HONOR ON YOUR BOOKSHELF." JOURNAL OF THE LAUREL HEIGHTS LITERARY SOCIETY.
"If you're into copyright law, UG history, perversion, comics, hippiness, art, seeing big old corporations getting pissed off in court, jokes about Irish temperment,and combinations of all these things, THIS IS A GREAT READ." LIVEJOURNAL.COM.
As well as…
"MAGNIFICENT" (Animation Weekly)…
"FINELY RESEARCHED… MASTERFULLY WRITTEN" (ASIFA Newsletter)… "DROLL" (Baltimore City Paper)…
"LIVELY" (Boston Globe)…
"EXUBERANT" (The Comics Journal)…
"ELEGANT" (Edmonton Journal)…
"DELICIOUSLY INCISIVE" (GOBSHITE QUARTERLY)…
"INTRIGUING" (Jim Hill Media)…
"MASTERFUL … COMPELLING" (International Journal of Comic Art)…
"MAD…WONDERFUL… CHARMING" (The Irish Herald)…
"HILARIOUS" (Jewish-Books.Net)…
"UTTERLY COMPULSIVE READING" (The List)…
"SIGNIFICANT POLITICALLY…SOCIALLY MEANINGFUL" (Orange County Weekly)…
"CHARMING… THOUGHTFUL" (Publisher's Weekly)…
"FUNNY, SMART… MORE THAN A LITTLE SCARY" (Readers' Oasis)… "PASSIONATE… REFRESHINGLY CANDID… (A) SUPERB RENDITION OF
THESE EVENTS" (Robot Fist)…
"ENTERTAINING" (San Francisco Chronicle)…
A HELL OF A STORY (SF Weekly)…
"ARRESTING… WRY… LUCID" (The Village Voice).