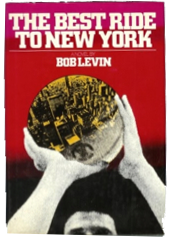 An existential sports novel in the tradition of The Hustler and Fat City about a minor league basketball player. Sex, drugs and hoops. Out of print. $10. Signed. Please contact us for international shipping.
REVIEWS
"sensitive, sad, and it defies classification. But it is superbly written."
Newgate Callendar. NEW YORK TIMES BOOK REVIEW.
"The most striking first novel since …The Friends of Eddie Coyle."
William Hogan. SAN FRANCISCO CHRONICLE
"admirable; it tells a small story skillfully and sensitively."
Jonathan Yardley. SPORTS ILLUSTRATED
"gritty and haunting …"
Gannet News Services
"It has the unmistakable ring of truth, closely observed and forcefully communicated."
BOSTON GLOBE
"a serious novel … a considerable talent."
Edward Bunker. CHICAGO TRIBUNE